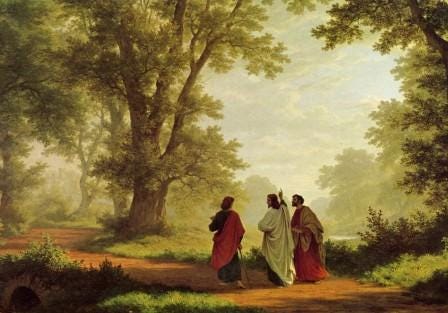 "Were not our hearts burning while he spoke to us on the way and opened the scriptures to us?" (Luke 24:32)
WHAT IS A MEN'S EMMAUS RETREAT?
EMMAUS is a weekend retreat presented by a team of men who have previously participated in a similar retreat weekend. While on this retreat you'll be free from the distractions of your daily routine. We gather in a relaxed, informal, confidential, and non-judgmental setting. It is a time of good food, snacks, and refreshments, for fellowship, camaraderie, and meeting new friends, where men minister, support, encourage, and guide one another. With your mind clear, you will be able to open yourself to the promptings of the Holy Spirit and discover a deeper understanding of Jesus' unconditional love, forgiveness, and healing, leading you to experience more inner peace, deep satisfaction, greater meaning, joy, andlife-enhancing relationships in your life.

WHERE DO WE MEET?
Please plan to arrive at the "Cursillo De Christiandad Casa" Retreat House,located at 16250 S.W. 112st Avenue, Miami FL 33157 at 6:00 PM on Friday, December 8, 2023. The retreat will end on Sunday afternoon.

HOW MUCH DOES IT COST?
The cost of the weekend is $140.00 and includes all meals and accommodation. If you do not have the financial ability to pay the fee, do not let that stop you. Let us know and arrangements can be made.

HOW TO REGISTER AND PAY.
You can Complete the online application below, or you can submit a written application to the HRSR Church Office. You will thereafter be contacted by members of the Emmaus Team who will provide you with further information regarding the Retreat weekend. Please make checks payable to "Holy Rosary-St. Richard," with the memo line stating "Men's Emmaus Retreat." Alternatively, you can pay online by credit card via HRSR's Church account:
ANY OTHER QUESTIONS OR NEED FURTHER INFORMATION?
If you have any questions or need any further information about the retreat in English, call Joe Biandola at (786) 973-6899, David Cinalli at (786) 382-1811 or email jbiandola@comcast.net. Para mas información sobre el retiro en Español llama: Eduardo Paz (305) 766-6014, Victor Rippe (786) 286-2516.
---
Please complete the retreat registration below. Someone will contact you shortly. Complete el registro del retiro a continuación. Alguien se pondrá en contacto contigo a la brevedad
Men's Emmaus Experience
Retreat Registration – December 8-10, 2023