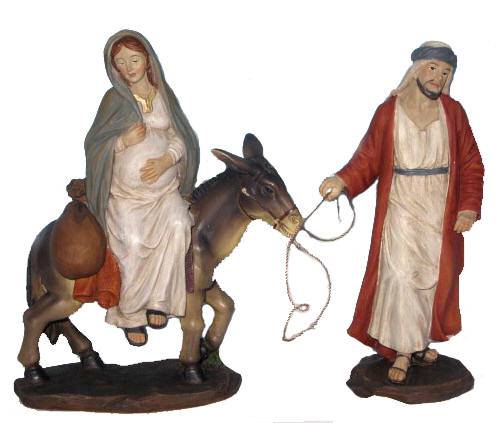 Posadas is a tradition that started in the 16th century when the Franciscan missionaries found that simple reenactments of the story of Christ's birth could touch hearts of the people they encountered. Posadas means "inns" or "shelters" as they emphasized Mary and Joseph's search for shelter before Our Savior's birth. These festivities have remained popular throughout the Latin American continent and the Southwestern United States.
Our parish will celebrate Las Posadas on Friday, December 1s at 7:00PM. We will start by praying the Rosary in the church, then a new outdoor Crib of Jesus will be blessed followed by a procession with the pilgrims Joseph and Mary to the Parish Hall where we will "ask for posada".
The musicians of Fe ministry will provide live music for the event, please bring your maracas and tambourines to join them in singing traditional Spanish carols. This event is a potluck, so please bring a dish to share with the community.
The Knights of Columbus will provide paper plates and utensils as well as a piñata for the kids to enjoy after supper.
This event marks the kick off of the Advent season that starts on Sunday, December 3. Hope to see you all there!   
Las Posadas, el Viernes, 1 de diciembre a las 7:00 PM
Las Posadas es una tradición que comenzó en el siglo XVI cuando misioneros Franciscanos se dieron cuenta que la recreación de historias del Nacimiento de Cristo tocaban los corazones de los pueblos que visitaban. Así nació la costumbre de reunirse para revivir la experiencia de José y María buscando hospedaje antes del Nacimiento de Nuestro Salvador. Esta festividad es muy popular en los países de Latinoamérica bajo diferentes nombres.
Nuestra parroquia va a celebrar Las Posadas el Viernes, 1ro de diciembre a las 7:00PM. Comenzaremos con el rezo del Rosario, seguido por la bendición de un nuevo Nacimiento donado por los Caballeros de Colón que será instalado frente a la iglesia desde donde iremos en procesión acompañando a José y María a pedir posada en el Parish Hall.
Le invitamos a traer comida para compartir con todos. Luego habrá una piñata para los más pequeños. Agradecemos a los ministerios Caballeros de Colón por sus donaciones y el Ministerio Fe por la música.