Office for Religious Education
Welcome to the Office for Religious Education!
Our mission is to go into the world and create disciples, with the command of Christ.
The office for Religious Education at HRSR Church offers religious education classes in person and online, for students between the ages of 7 years (or 1st Grade), through 17 years (or 11th Grade). If your child is 7 years old or more, and needs the Sacrament of Baptism, we will prepare them for Baptism in class. Students are required to attend classes for 2 consecutive years to receive First Holy Communion, and at HRSR Church, 3 years to receive the Sacrament of Confirmation.
Students are required to attend Mass as part of the course curriculum, and Mass attendance is recorded.
If your child is in Middle or High school and has not received the Sacraments of Baptism or First Communion, we offer classes with others students in their peer group, to prepare them for all the Sacraments of Initiation.
Students preparing to receive the Sacrament of Confirmation are required to earn Community Service hours as noted in the parent handbook here. Please visit the Student Community Service Hours page for more information on how to earn community service hours at HRSR Church.
Classes occur in person and online on Tuesdays and Wednesdays at 4:00 PM for students in 1st and 2nd grade and at 7:00 PM for students from 1st through 12th grade. Registration begins each year in June.
Please call or email the Office for Religious Education for more information
Registration for 2022-2023 classes is open!
Hours of Operation
Tuesday and Wednesday: 12:30 PM to 8:30 PM
Thursday: 8:30 AM to 4:30 PM
Closed Monday, Friday and Saturday
Sunday: 9:00 AM – 1:00 PM
Phone: (305) 233-8711 X 115
Email: catechesis@hrsrcs.org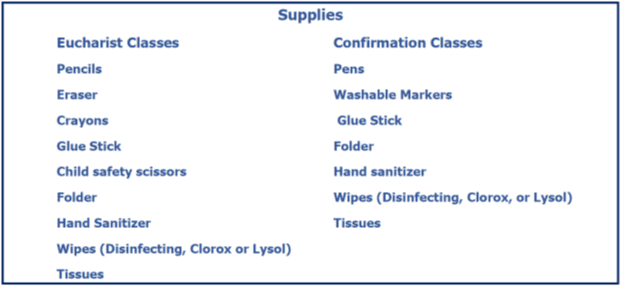 Current Students
Google Classrooms:
---
---
Religious Education Calendar
HRSR CCD Calendar 2021-2022.pdf

Click the PDF to view or download the complete calendar. The calendar is subject to change.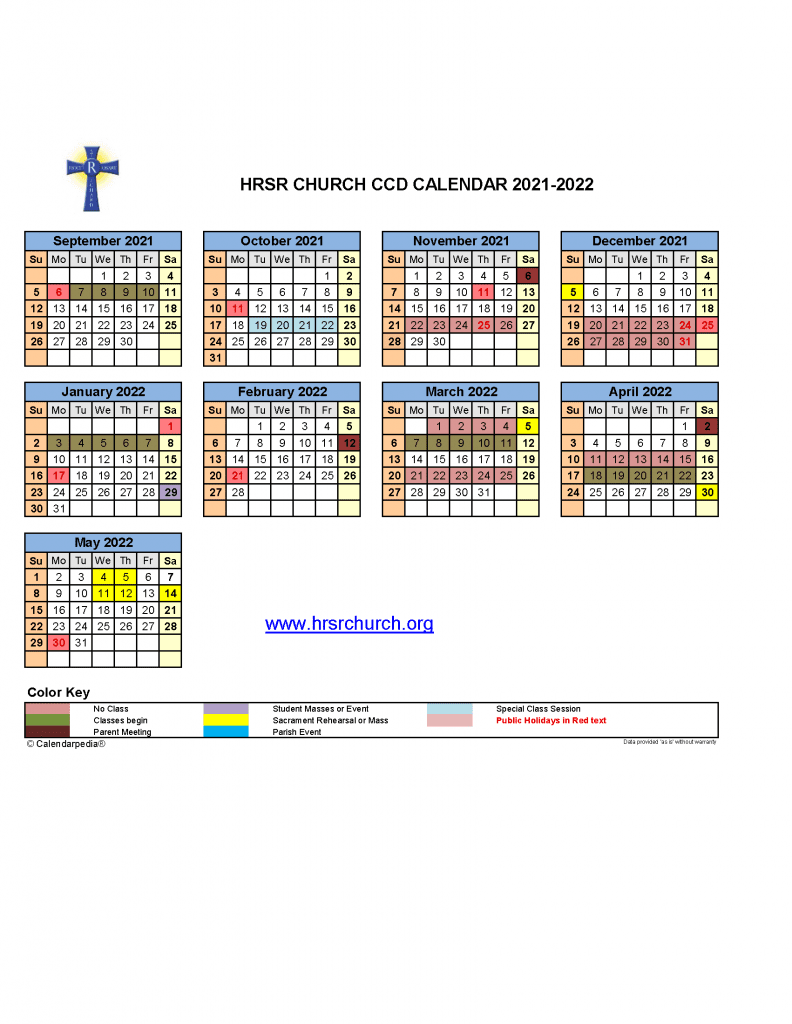 HRSR CCD Parent-Student Handbook
Godparents and Sponsors